William Daniel Harvey
90 years old
Date of birth: September 11th, 1924
Place of birth:
Palo Alto County, Iowa, United States
Date of passing: November 18th, 2014
Place of passing:
St. Peter, Minnesota, United States
This memorial website was created in the memory of our loved one, William Daniel Harvey, 90, born on September 11th, 1924 and passed away on November 18th, 2014. We will remember him forever.
I will go to the wailing wall, where there is weeping and gnashing of teeth...
Gone but certainly not forgotten by so very many.
RIP Mr Harvey & may perpetual light shine upon you
God Bless you Mr. Harvey! my siblings, & son, & Granddaughters & I were very blessed to have all had you as our great English Teacher! You will be missed, but forever remembered for your great teachings, kind heart & also coming to all our graduations & our homes! Thank-you Mr. Harvey. Rest in peace...Mary Hanson Monaghan & family
A true gentleman and one of the most beloved teachers I know. I admired him as a fellow teacher and my respect for his high standards continues to grow. He will be missed and remembered always.
God Bless Mr. Harvey. You will never be forgotten. RIP
Many of us will never forget the beautiful work you did as our teacher, Mr. Harvey. Your style influenced my teaching career more than you ever knew. You always cared about us and the poetry you had us memorize. Thank you for giving so much to so many of us. You forever touched my life.
May you rest in peace Mr. Harvey! I will always remember Poet's Corner and your bright and cheery "Hi Lass!" Every morning. You will always be one of my favorite memories from SPHS. Thank you and God speed!
Godspeed, Mr. Harvey, my favorite teacher before, now, and always.
He always made up middle names for us, calling me Miss Patricia Ann. He would confiscate notes people passed, sit down with his ruler, and correct the grammar. He gave me 270 extra credit points for memorizing "Birches"-set me up for the rest of the year! He always said, "eat breakfast like a king, lunch like a prince, and supper like a pauper." Mr. Harvey was a teacher you never forget!
I did not attend St. Peter High, but I was always your student. Carry the key well, good Sir.

Charles
Mr. Harvey was a great man. He treated every student the same. He was respectful and caring, yet firm. He, in turn, was respected and loved by all his students. He was the kind of teacher all teachers should aspire to be. He touched so many lives in such a positive way. He will truly be missed. The world needs more people like Mr. Harvey. He was a true gentleman!
Oh, yes! Mr. Harvey was memorable and inspiring! Following his example, I corrected grammar on all papers submitted by my students in university Agricultural Economics classes. Those California scholars could have upgraded their English skills many-fold if they had been taught by someone as talented as Mr. Harvey. He was loyal to the SPHS Class of 1963 and much appreciated by us.
I did not have the good fortune to have Mr.Harvey as my English teacher at SPHS. I was however fortunate to spend some time in the last few years living back in Minnesota, getting to know Mr. Harvey. I always admired him for his gentlemanly ways and great spirit. I am very proud to have been in his acquaintance. RIP Mr. Harvey.
The world is a lesser place now. I...No, we will all miss him. We learned so much more than English Lit. We were taught respect for ourselves and for others. What a gift we were given in Mr. Harvey. God bless him, rest in peace. (c. g. bjorklund class of '67)
Mr. Harvey was a wonderful teacher. I remember reading part of Romeo and Juliet in class, who read Juliet, and his keeping a window open regardless of the temperature outside. Everyone whose lives he touched is better for it. We'll meet again.
Mr. Harvey, I'll never forget you! Remembering you on your birthday.
Remembering Mr. Harvey on what would have been his 93rd Birthday. My favorite teacher.
Invite your family and friends to visit this memorial:
Subscribe to receive e-mail notifications when others contribute to this memorial.
Created in partnership with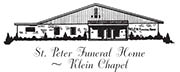 St Peter Funeral Home-Klein Chapel
906 N Washington Ave
St Peter, MN 56082-1856
(507) 931-2750
Have a suggestion for us?